Homerit PVC-U tilt and turn door offers the unique feature of a dual function door. It's a swing door, as well as a ventilation system with its tilt-in option.
---
The all-around locking hardware provides unparalleled security and insulation values.
By turning the door handle to the top position the sash is engaged in tilt mode, allowing the door to tilt inwards at the top to create cross ventilation without compromising security.
By turning the handle to the horizontal position, the sash is engaged in turn mode. This allows the door to turn as in a normal inward opening side hung door.
With the handle in the downward position the door sash is compressed against rubber gasket and the frame, leaving the unit completely sealed and locked in multiple points.
---
The tilt and turn door is a door and a window at the same time. This feature makes it an ideal solution for rooms with limited wall space.
Tilt and turn door also offers an unblocked view when full height glass is fitted.
With tilt and turn door a room may not need other window(s) or need less window(s) which could be more cost effective than installing a door and a window.
This diagram shows a sophisticated Siegenia multi point locking hardware for tilt and turn doors.
Tilt and turn hardware is designed to take the weight of double or triple glazing and is three dimension adjustable. It guarantees the water and air tightness of the door.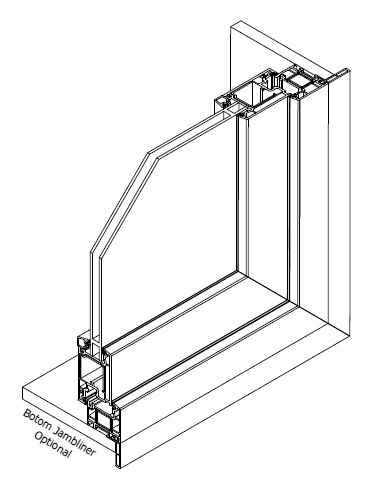 Product Features >>
Fully compliant to technical specifications set forth in European standards, EN12608.
Multiple chamber system design enhances heat and sound insulation properties.
Galvanised steel reinforcement imparts optimum stability to the window system.
Comply with Clause B1 and Clause E2 of NZBC for an Extra High wind zone.